The T.D. Jakes Relationship Bible
We have made it to a new year! With everyone making New Year's resolutions of getting healthier, and working out and being more disciplined, I thought what better resolution than to become more dedicated to reading the one book that could change your life. My pick to start 2012 off is the Bible, but not just any Bible… The T.D. Jakes Relationship Bible.
We are surrounded by relationships every day; whether it's with family and friends or with co-worker or with the bus driver that we see every morning taking us to work.  There are Bible's geared toward strengthening men, women, teens, children, students as individuals. This Bible is geared towards strengthening individuals as they are engage in a relationship with God, His Word and with other people.
What sets this version of the Bible apart from others is not that T.D. Jakes chose to use the King James Version because he says, "The precision of translation for which it is historically renowned, the simple yet grand language, and it's majesty of style have made it [his] personal version of choice". It is his approach to the presentation of the Book. He starts off with explaining to the reader the importance of having a relationship with your Bible, why a relationship is so important and how God's love for man was established from page one. He provides a 50-day reading plan and a 1-year reading plan, but in my opinion the treasure found in this Bible (other than the fact that it's God's word) is the 150 articles and 10 prayers imbedded within the chapters that provide insight on the subject matter. The articles are broken down into sections: Reflections of God's Heart, Lessons of the Heart, Relationship Builder, Relationship Breakers, Prayers for Relationships.
If you enjoy your Bible and are ready for a new approach to reading it, this is a good one. If you are a collector of different versions of the Bible, the Relationship Bible is a must have. If you are ready to elevate your relationships on all levels, read this book. It will also make a great gift for someone who needs to work on their relationships. In any case, the T.D. Jakes Relationship Bible is a must have.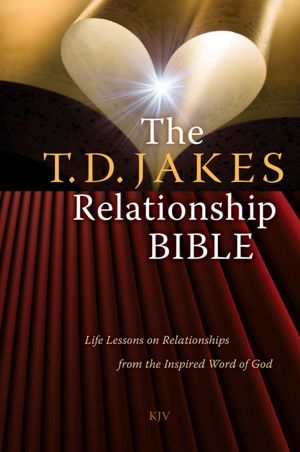 In the words of the author, "You are invited to begin a life long journey to discovering God's words of truth for your life and relationships, and to discovering God himself in the words of His Book!"
Bishop T.D. Jakes- Ministerial and business visionary, entrepreneurial trailblazer, altruistic philanthropist, and spiritual shepherd to millions around the globe, Bishop Thomas Dexter (T.D.) Jakes, Sr., founded Greater Emmanuel Temple of Faith, his first pastorate, in 1979. It was a small beginning, in a small West Virginia church, pastoring a small, 10-member congregation.??More than 25 years later, Bishop Jakes pastors what Christianity Today calls "one of America's fastest growing mega-churches." The Potter's House, a multiracial, nondenominational church with 50-plus active outreach ministries, has dominated church growth records since its inception in 1996. In its 10-year existence, the church has grown from the 50 families that relocated with the Jakes family from West Virginia to Dallas to more than 30,000 members. Rivaling many corporations, the ministry employs nearly 400 staff members, including full-time finance, human resources, information technology, materials distribution, public relations, publications and television production departments. The Potter's House is fiscally sound, retiring within four years the financial debt incurred by the 191,000 square feet, $45 million sanctuary construction.